Expert Volunteer Bat Roost Visitors, Roger & Sylvia Jiggins, are in for a chance to win a Green Award for Terrific Acheivers from Natural England!
County Bat groups can be tremendous sources of support and expertise for church communities living alongside bats. Essex Bat Group is a shining example of a dynamic and proactive Bat Group which is well-linked into, and respected by, the Church of England community in Essex.
This is due to the tireless work of the Volunteer Bat Roost Visitors (VBRV) Roger and Sylvia Jiggins. Their knowledge of Essex bat roosts is unprecedented due to the sheer number of visits they undertake each year. They are expert at resolving sensitive situations, coming up with innovative solutions and as trainers they have secured many more VBRVs over the years.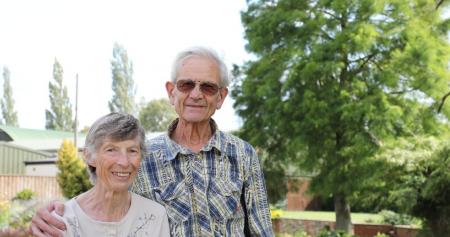 As well as having many direct links with Essex churches, they have a good relationship with the Diocese of Chelmsford, and undertake the considerable work of going through the monthly Diocesan Advisory Committee agendas, to flag up potential issues with bats.
The Bats in Churches project is working with seven churches in Essex and Essex Bat Group, through Sylvia and Roger, have provided expertise and support, including a very popular presence at the Chignal Smealy village fete.
The National Bat Helpline says:
"The Jigginses go the extra mile to support churches, allowing us to provide a level of service we otherwise couldn't resulting in years of data for Essex churches which helps provide an in-depth understanding of how bats use these churches, helping to conserve the bats in the long term and foster good relations with the churches."

"Sylvia and Roger are invaluable volunteers. Their wealth of expertise, alongside the careful consideration they put into every roost visit and report means that churches in Essex receive high quality, bespoke advice every time. Their relationship with the Diocesan Advisory Committee in Chelmsford goes a long way to safeguard the bats of Essex."

"Sylvia and Roger have a wealth of knowledge and are extremely dedicated. It was an absolute pleasure when they showed us around some churches in Essex; an enjoyable and invaluable day. There's nothing they don't know about bats and churches!"

"Roger and Sylvia are great! I always know a visit is in good hands when they are on the case! Their knowledge and dedication is awesome."
We wish them all the best and heartily support their nomination!