Heritage Lottery Fund visits Bats in Churches project churches to discuss successes and legacy
Bats in Churches welcomed representatives from the Heritage Lottery Fund and our partner organisations to project churches to share some of the amazing successes of the project and look towards its legacy.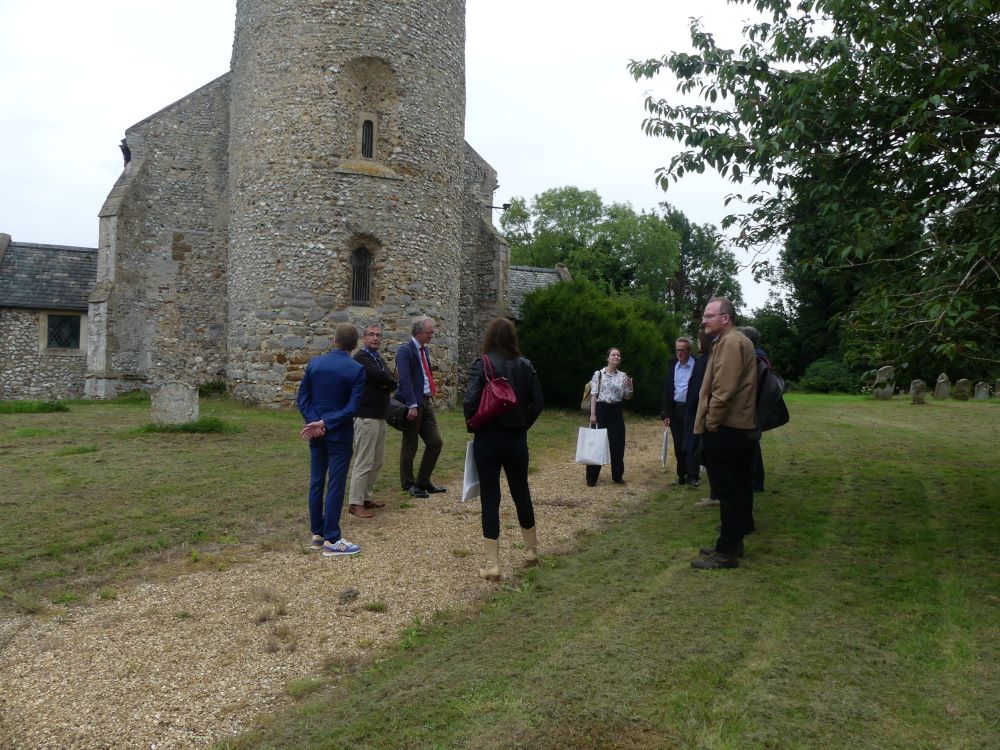 The project team were delighted to meet Simon Thurley, chair of the Heritage Lottery Fund, Anne Jenkins, executive director business delivery at the Heritage Lottery Fund and colleagues along with Kit Stoner, CEO of the Bat Conservation Trust, Alan Law,  chief officer, strategy, at Natural England, David Knight, senior church buildings officer in the Cathedral and Church Buildings Division of the Church of England, and Diana Evans, head of places of worship at Historic England.
This was a wonderful opportunity to bring together key members of Bats in Churches partner organisations along with funders Heritage Lottery Fund to discuss the successes of the project, and the legacy of Bats in Churches once it concludes in October 2023.
At our project church of All Saints in Thornham, Norfolk, ecologist Phil Parker outlined our experimental approach to managing the church's bat population, and members of the church community spoke about their experiences with bats and the outcomes for community and church heritage.
All Saints has held a number of very successful bat walks over the last few years, and has hosted a cleaning workshop and provided a venue for training new bat surveyors.
The group then moved to our project church of St Mary's in Gayton Thorpe for a positive conversation about Bats in Churches' legacy including the potential for a post-project small grants scheme to help churches with bats and retain the strong links forged by the partnership.
During this visit, the group was joined briefly by one of the church's resident pipistrelle bats in something of a magical moment.
The visit concluded with plans to continue conversations with Heritage Lottery Fund and partners, and to work to ensure the the legacy of the project is secure.
All parties acknowledged the importance of making sure the £4.6m investment by Heritage Lottery Fund and partners continues to help communities, heritage and nature beyond the lifespan of the project.
The project team was delighted to hear that Mr Thurley felt the project 'ticked all boxes' of heritage, habitat, species and community engagement. The meeting ended on a warm note and delegates left with a pack including Bats in Churches case studies and a copy of our illustrated children's book The Little Church Bat.