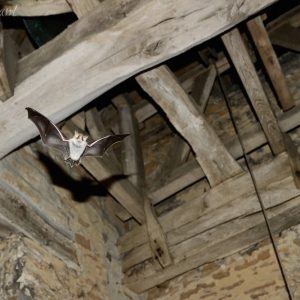 Many churches live happily with their resident bats, and bats can be a fantastic way to engage with your local community, especially those who may not otherwise visit a church.
Finding bats in your church is unlikely to stop you from carrying out works or repairs and there is almost no risk that your congregation will catch any disease from bats in the church.
However we understand that in some cases, bats can cause severe problems inside churches. The project is working with more than 100 churches across England. We're working with qualified bat ecologists, church architects and heritage professionals, using the latest research to create bespoke solutions and reduce the impact created by bats without harming their populations.
Solutions so far include major bat mitigation projects, providing protection for historic monuments, and simple training and advice on cleaning. We're also helping churches use their bats as an method of engagement, encouraging the local community to appreciate their ecological significance.
This section includes a range of resources for anyone who cares for a church: advice on works, fundraising options, cleaning advice and training, and resources for schools, events and fundraising.
We cannot offer funding to any churches not currently part of the project but we are always happy to offer advice and discuss your possible options.